The Chief doctor, Mr. Zugar, has already performed 10,000 cataract surgeries
19.10.2017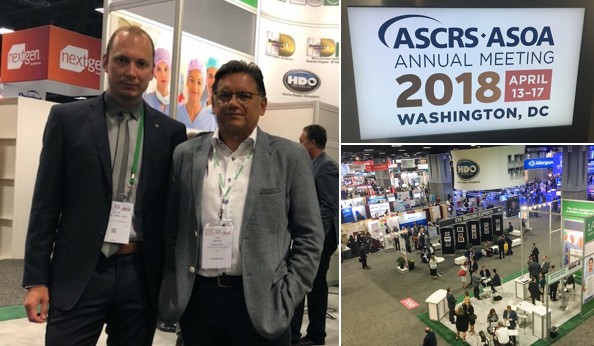 The Chief doctor of our clinic, Mr. Radan Zugar, has already performed 10,000 cataract surgeries. We congratulate and wish him other successful surgeries and satisfied patients.
Mr. Zugar started to work at the Eye Centre Prague in 2011 as a specialist doctor and he was appointed the Chief doctor the same year. He mainly focuses on cataract surgeries – in total, he carried out the mentioned 10,000 successful surgeries and 8,000 of them were performed at the Eye Centre Prague. Besides surgical practice, he also provides outpatient treatment in which his area of expertise is mainly retina treatment; he also administers anti-VEGF agents and provides consultancy services for glaucoma treatment.
Mr. Zugar performed his first cataract surgery in 1999. In that time the surgeons used a different surgery technique called an extracapsular cataract extraction. During this procedure, the eye was opened using an incision of more than 10 mm, the lens was removed in whole without the covering and approximately 7 stitches had to be used then. Since then, surgery techniques and equipment have changed. At the Eye Centre Prague, we use the most modern technologies that bring more comfort to the surgeon and more safety to the patient.
Every day, our visitor's book has a new thank you note to Mr. Zugar from satisfied patients who are thankful not only for their new vision but also for his human approach.
The Chief doctor, Mr. Zugar, is awesome, kind, careful and extraordinarily competent and accommodating. Thank you very much. (This thank you note was left in the visitor's book at the Eye Centre Prague by a satisfied patient on 24

th

of March 2017)

I would like to thank the Chief doctor and the whole team for my cataract surgery performed on both my eyes. Everything was perfect! Thank you so much! Ing. Josef Číhal (This thank you note was left in the visitor's book at the Eye Centre Prague by a satisfied patient on 24

th

of January 2017)

I would like to thank the Chief doctor and the whole team of the Eye Centre Prague for your kind behaviour and faultless work. It wasn't worth my worries! (This thank you note was left in the visitor's book at the Eye Centre Prague by a happy patient on 19

th

of January 2017)