ANDREA JANEKOVÁ, MD, FEBO

Head Physician of the Cataract and Refractive Surgery Centre Deputy Chief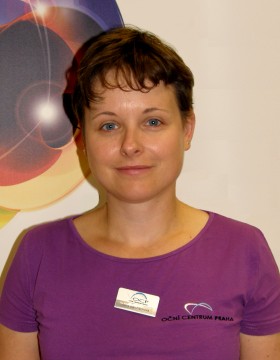 Andrea Janeková, MD, FEBO studied at the Third Faculty of Medicine at Charles University in Prague.
In 2012, she spent several months at an internship at the Department of Ophthalmology of the University Hospital Arnau de Vilanova in Spain. She completed her courses in Chicago (AAO Chicago 2016) and in Vienna (Vienna phacoemulsification one week wetlab course 2017). In May 2019, she successfully passed the European Board Examination in Ophthalmology (EBO Exam), based on which she obtained the prestigious FEBO title (Fellow of European Board of Ophthalmology).
Since November 2012, she has been working as an ophthalmologist in the Eye Centre Prague.

You can meet with Andrea Janeková at our clinic, both in her office and in the operating room. She specializes mainly in refractive and cataract issues and deals in detail with intraocular lenses and cataract surgery.
She regularly attends specialist ophthalmology events and specialist courses for ophthalmology in the Czech Republic and abroad. She lectured at international events: SOE Barcelona 2017 and ESCRS Lisbon 2017.
She likes travelling and spending time with the family, in particular her little daughter Amy. She also likes snowboarding and yoga. She speaks fluent Spanish and English.