An examination with the endothelial microscope
It is a higly specialized corneal examination, which can uncover the quality and structure of the lower part of the eye´s cornea in a detailed manner. 
The endothelial microscope of the brand TOMEY is able to uncover the state of the lower layer of the eye´s cornea – the structure and quality of the so- called endothel, in a very detailed manner. The endothelial cells are responsible for the nutrition of the cornea as well as securing its transparence.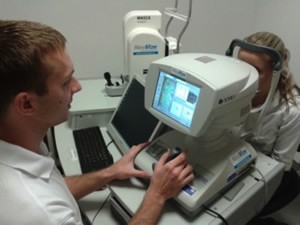 The examination is very important before the following surgical procedures:    
Cataract surgery  
Refractive eye lens exchange  
Implantation of an intraocular eye lens 
Laser surgery  
If the number of endothelial cells is too low, or if they have an inappropriate structure, the doctor does not have to recommend the surgery, or he may offer an alternative solution. This helps us avoid complications and ensure your safety.
The examination on an endothelial microscope is also being used for the diagnostics of congenital defects of the cornea (the so- called dystrophy), which are usually only noticed in adulthood or later age. 
The examination is contactless and only takes a few minutes. It is completely pain free for the patient and does not cause him any trouble.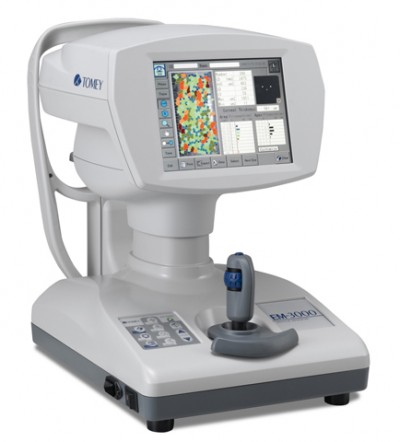 The endothelial microscope from the brand TOMEY is currently one of the absolute top in its category. The doctor has immediate access to automatic analyses and transparent diagrams, and can steer the machine with the help  of a modern touch screen. Another investment into the most modern technological equipment in the amount of almost 30. 000 EUR proves that at our clinics, we are serious about the safety of your eyes.  
You can find more information about the endothelial microscope on this website: http://www.tomey.de/en/endothelium